I have to confess I had more of a feeling than a true plan when I daydreamed about this project. It wasn't until recently that I truly starting putting all the pieces together.
First, let's look at this cute photo.
I know. So sweet. The thing is, when I saw this little chair on FBMP two weeks ago, I just KNEW it was for my space. And then I went back through all of the inspiration photos, where I truly was focusing on pea gravel and plants. And it hit me like a neon train pulling an Hallelujah chorus.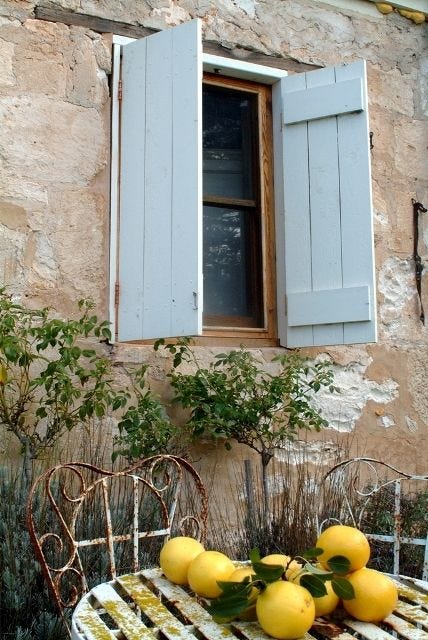 I need to add some smoky robin's egg blue to my house.
The perfect spot for it is the original back door, which gets zero use or attention. It has been covered by a gross, rusty, not-original-to-the-house storm door. There isn't even a screen for it anymore. It's brown and has blended with the rest of the back of the house, and I tend to forget about it. Obviously.
But it is also a major opportunity to add that touch of blue!
I can't let go of this idea now, so it has to happen. And I might be talked into also painting the door to my garage the same color. Because it's just paint and it would be so cute to look at from my office window!
I'm leaning toward Benjamin Moore's Wedgewood Grey:
I might even have a sample in the basement. The door needs some weatherproofing and some clean-up, but I'm super excited about this development!
A big thank you to the One Room Challenge organizers and Media Partner, Better Homes and Gardens!
Make sure to see what the featured designers are up to and check in with the other ORC guest participants.